Driven Dental recently got to host a discussion with Dr. Ankur Gupta, an extremely successful implant dentist. He reported to us that in the past few months, he and his team have closed 100% of the implant cases that have walked through his door!
When asked about his advice for gaining case acceptance, he offered a surprising response. He identified the secret ingredient to closing high-value cases… but it's not what many people think it is.
We assume that gaining implant leads and getting them to accept treatment mostly has to do with our marketing, funnel structure, and scripts. Now, these things are important. Dentists need to understand the primary obstacles to patients accepting care, and the know-how to overcome them.
But Dr. Gupta would argue that even with the best marketing in the world, you still might fail to close implant cases… without the secret ingredient, that is.
So what is it? Dr. Gupta argues that compassion is the missing piece for so many dental implant practices. If you lack compassion, you will end up disappointing your patients. They'll drop out of the implant process and you won't even be sure why. To combat this, Dr. Gupta gave a few important tips for empathetic and compassionate care. Implement them and watch your case acceptance rate start trending upwards:
1. Put yourself in their shoes.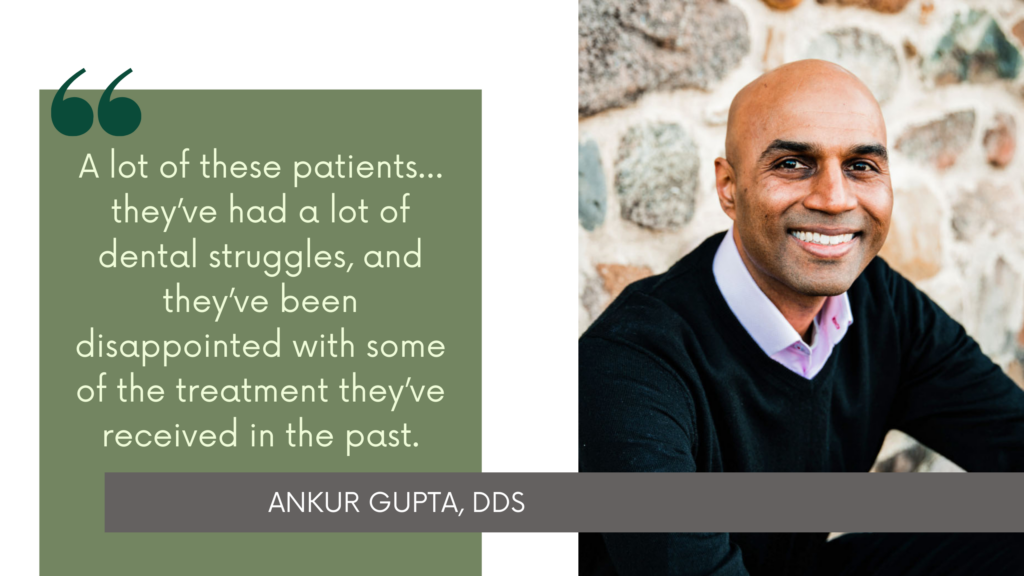 A huge part of providing compassion involves taking the time to view the consultation from the eyes of the patient.
Dr. Gupta shared this analogy: imagine you develop neck pain. You don't want to simply medicate the issue with over-the-counter drugs, because you're concerned that it could be a sign of a deeper issue. So you go to the doctor to get things checked out.
But the doctor doesn't have time for you. They spend two seconds listening to you, then they simply write a prescription for some medicine and send you on your way. So you decide to talk to a specialist instead and call a chiropractor or physical therapist. The receptionist, however, doesn't take the time to really listen to your concerns. All they want to do is book an appointment for you to come in.
Would you keep going with the process? Dr. Gupta says he wouldn't because he'd be so sick of getting the runaround. All he wants at first is for someone to really listen to his concerns.
By simply giving your incoming patients time and attention, they'll realize something is unique about your practice. So, take the time to reflect on the patient's journey and the feelings that accompany each step.
2. Treat them with authentic empathy and compassion.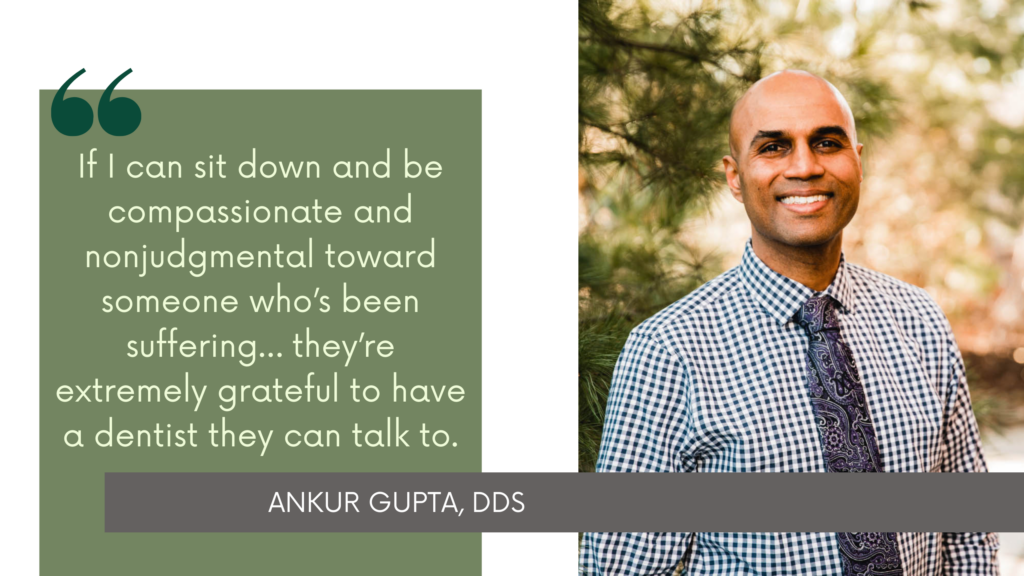 When the patient comes in to consult with you and your team, it's time to show the compassion you have for them. You can't merely have empathetic words on a script you follow.
Make eye contact with the patient. Smile and let them know that you're glad to see them and have them in your office. Slow the conversation down; don't simply try to move on to the next phase of the consultation.
If you usually start your consultation standing up before passing it onto a Treatment Coordinator, try sitting down instead. When you sit knee to knee with the patient, it conveys that you view them as equal.
Ask them open-ended questions, and take the time to hear their story. These simple acts will blow them away. You'd be surprised at how few dental practices employ this level of care during the consultation process.
3. Make compassion a part of your system and workflows.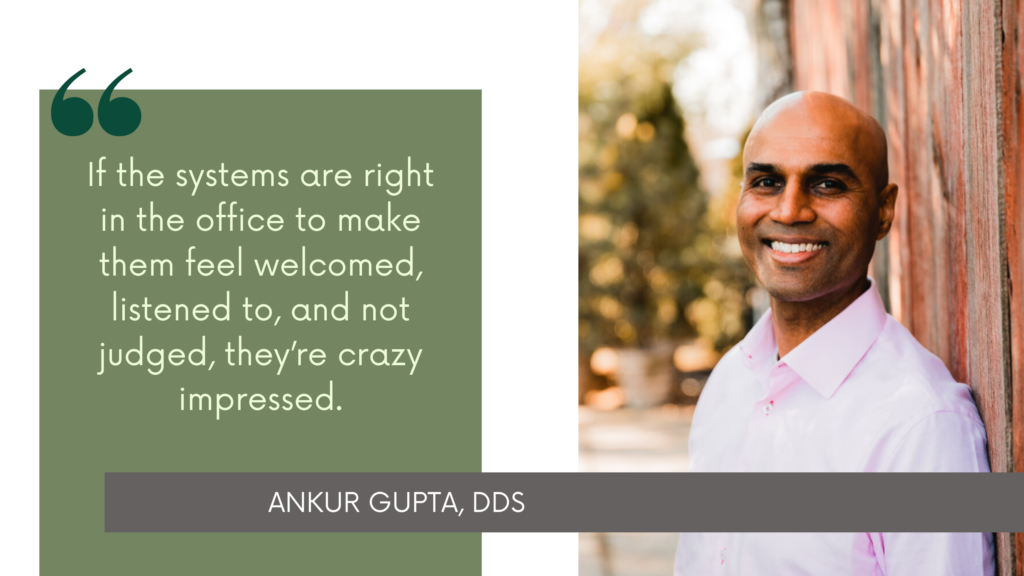 Dr. Gupta shared that he's recently been coming to the office much earlier if there's an implant consultation scheduled for that day. In the past, he would typically come to the office around nine. But for implant consultations, he'll adjust his schedule to give everyone the time and attention they need.
This applies to his team as well. He's trained his support staff to understand which patients are a priority. That doesn't mean other patients aren't important, but high-value implant patients do get an extra level of time and attention.
For him, it's worth working an extra couple of hours if it means getting the "Yes" from an extra patient or two. This is the difference between dental implant practices that thrive and ones that merely get by. Additionally, take the time to educate your team about priority patients.
To this end, many successful implant practices train a specialized Financial Coordinator to handle the bulk of consultation appointments. They're trained on how to walk a patient through the process, but more importantly, they know to provide the empathy and compassion that makes a difference.
Dr. Gupta begins the consultation, giving the potential implant patient the personal touch… then he hands things off to his team. He builds trust with the patient and then transfers that trust to his coordinator as he goes about his other tasks. When done correctly, this will increase a practice's consultation volume and effectiveness.
If you're wondering how to train your team in empathy and compassion, and how to handle the handoff moment, click here.
If you want to learn more about methods for boosting your case acceptance, then book a free strategy call with us. We'll talk through how to have your best consults yet, and give tips for succeeding in implant marketing.