As a dental implant practice, growing your patient list should fall at the top of your priority list. This article assumes you have a few leads, but they haven't yet accepted your case. How do you follow up and communicate with them in a way that gets their attention and causes them to go with you?
There are a few important steps to follow to make this happen. Dental implant practices who learn how to follow up with leads without sounding annoying, or desperate, but rather attractive to their ideal patient, will enjoy a much higher case acceptance rate. Let's break down some of the best ways to turn implant leads into implant patients.
1. Organize your overall brand and marketing.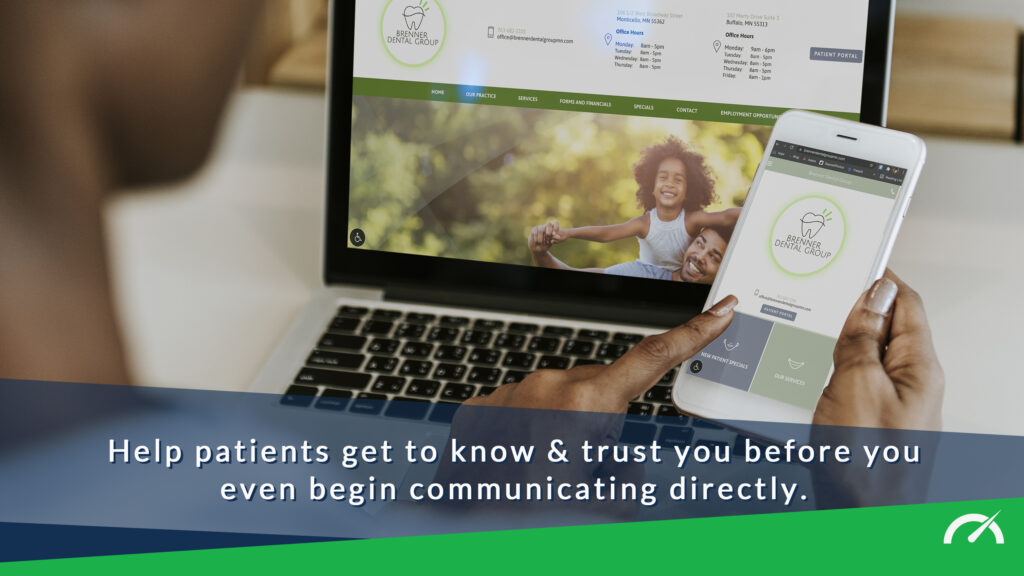 Your overall marketing approach will lay the groundwork for your follow-ups. Make sure your brand is consistent and holistic. This will help potential patients get to know, like, and trust you before you even begin communicating directly. This also enables you to identify who your ideal patients are, and develop branding and language that appeals to them.
When your brand is organized, begin investing in your earned and shared media. These include but are not limited to your social media presence, reviews, and special events you either run or sponsor. All this forms the foundation for following up. Ideally, your prospective patients already know and trust you before the conversation starts.
2. Reverse the roles.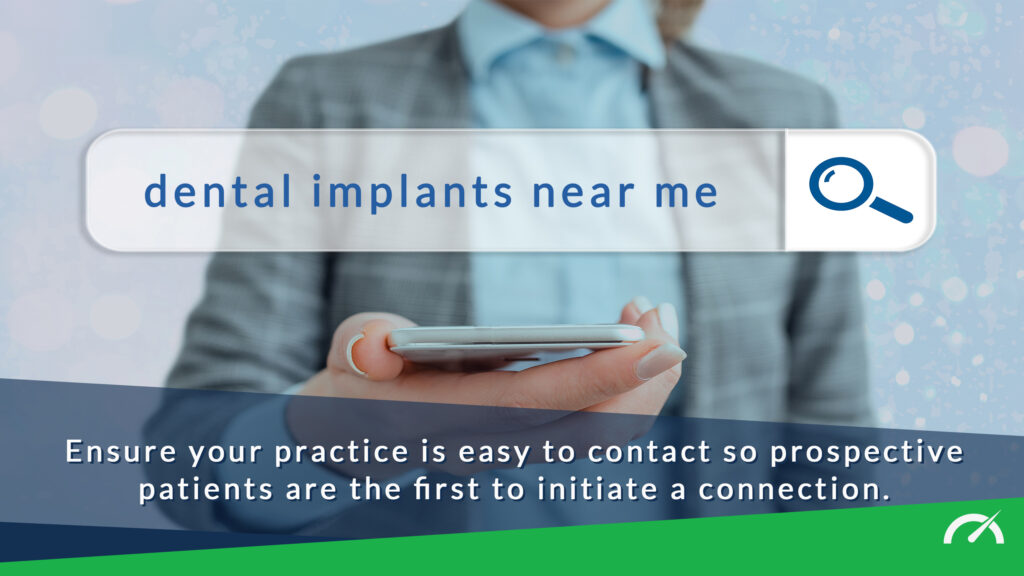 You will experience a higher case acceptance rate when the patient, not you, initiates. To facilitate this, make sure your practice is extremely easy to contact. Build an easy-to-navigate website with a dedicated page for dental implants. Link to your dental implant interest form on both your home page and implants page, as well as frequently throughout your blogs and social posts.
Make information about your procedures and costs readily available to anyone who searches. Ensure your Google business listing remains up to date. Post consistently on social media to remain visible.
3. Personalize everything you can.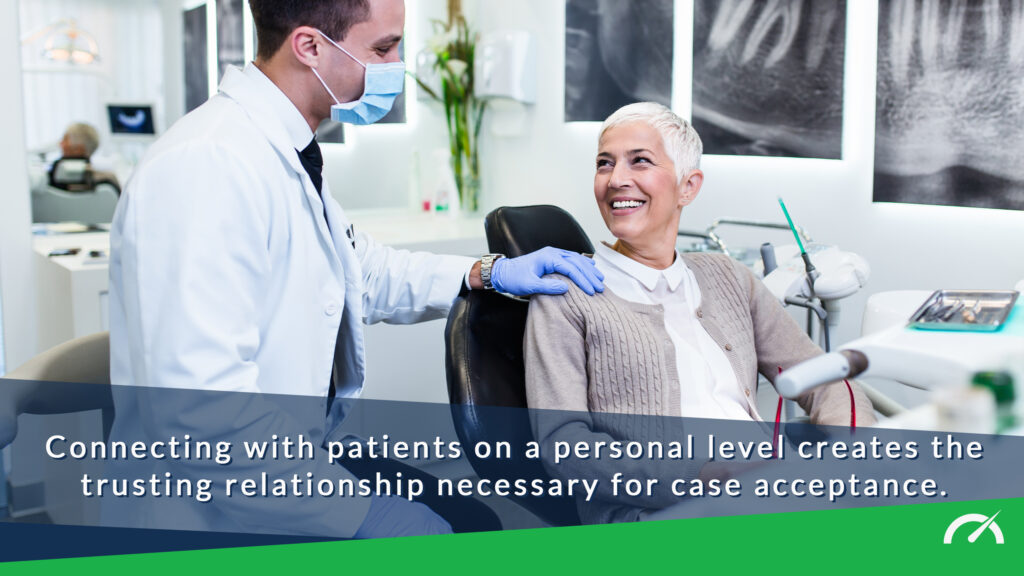 For follow-ups that you initiate, do everything you can to personalize them. When you want to grow your patient list, make sure all your emails are personalized to the patient. Get lead management software and include relevant information about each prospective patient to include in your conversations. Sometimes the ability to remember something from your implant lead's life is enough to demonstrate you care and causes them to trust you with their case. 
Tip: Add personal details to the patient record in your practice management system to reference when they come into the office.
Make your prospective patients feel heard and valued by responding quickly and comprehensively to online inquiries. Make sure you have a team member who answers all inquiries on your website, social media, phone, and email within 24 hours.
4. Use technology.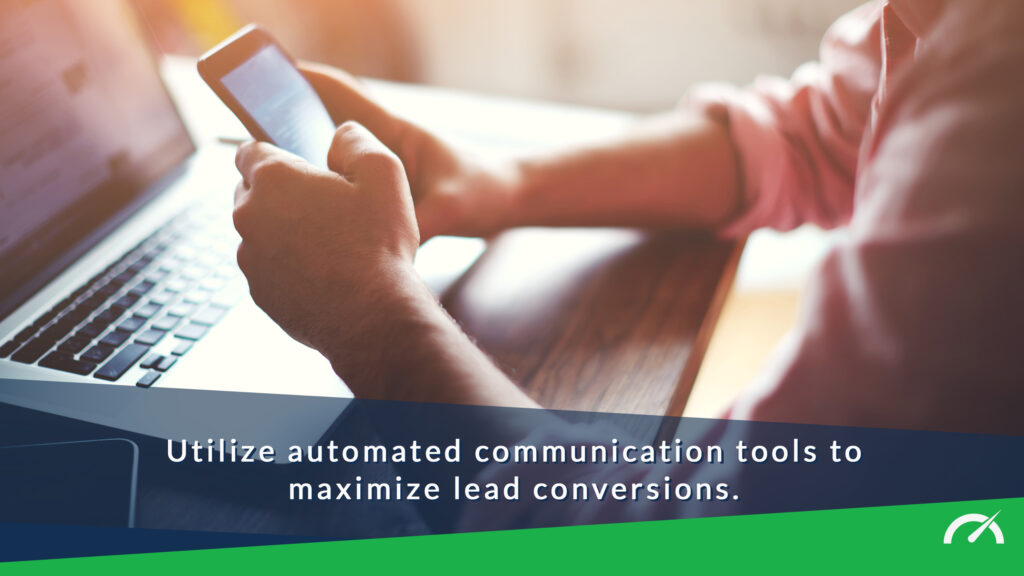 As mentioned before, using lead management software could be the missing piece of the puzzle for growing your patient base. Patients communicate on multiple channels, so an ideal lead management solution would allow you to communicate on all the channels your patients are using. A good tool will also let you include relevant information into the contact record about the implant lead as well as how close they are to accepting your case, the steps you've already taken with them, and the main barriers to treatment they've expressed.
Some implant practices also use automated email platforms to stay in touch with prospective and past patients. This can be a powerful tool when used sparingly. Too many automated emails, and the lead will simply unsubscribe. To get the best of both worlds, maintain a general email list that sends out general updates and greetings once every month or so. Then, have a list of first-time prospects that receive a chain of emails every day for about five days, each with an invitation to consult with you.
5. Partner with a Virtual Patient Advocate (VPA).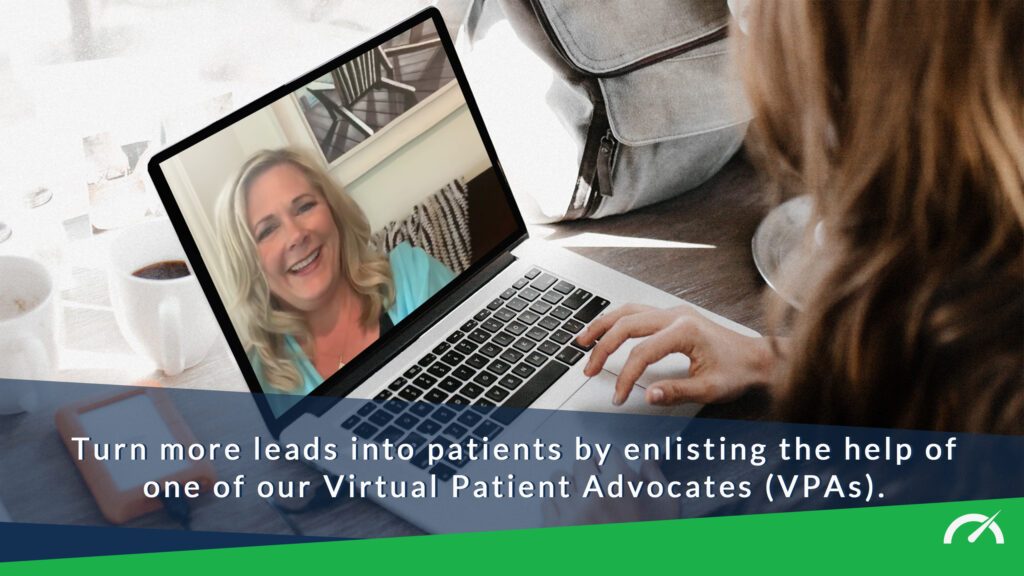 Last but not least, you can maximize your lead conversion by assigning a Virtual Patient Advocate (VPA) who delivers pre-qualified patients directly to you. This is a dedicated team member whose primary job is to follow up with leads and help them make the decision to come into the office. This could be a team member in your practice, or you can partner with a company like Driven Dental Marketing who can provide a skilled Virtual Patient Advocate for you.
At Driven Dental, we operate on a simple philosophy: we want to give our clients implant patients, not just implant leads. If you're interested in working for a results-driven marketing agency or VPA, book a free strategy call with us today.