Every business needs top talent, and this is especially true for dental implant practices that want to maximize the number of patients they help. Your practice will rise and fall based on the strength of your team.
But it's hard to get the right people. Dentistry currently has a shortage of team members in key positions like associate dentists, hygienists, assistants, and admin team members. Due to the COVID-19 pandemic, many team members haven't come back or considered a different career path. This is compounded by the negative experiences that often come from working in a dental office… many team members report feeling overworked and underappreciated. Not to mention it's a job with high pressure and pace to begin with. 
In other words, the dentistry job market favors employees, not employers, making it more important than ever for practices to make the right impression and attract the best talent. 
One often-overlooked way to attract talent to your practice (or turn them away) is the team page on your website. Many dental practices have a "Meet the Team" page and use it to market their practice to patients. However, they don't realize that it's also an incredible opportunity for top dental talent to find them.
In this job market, getting the right employees is a two-way street. You have to approve of them, sure… but they also have to want to work for you. During the hiring process, candidates will look at your website and team page, probably multiple times. Make sure to set up your page in a way that makes the right candidates excited about working with you.
What makes a good dental team page?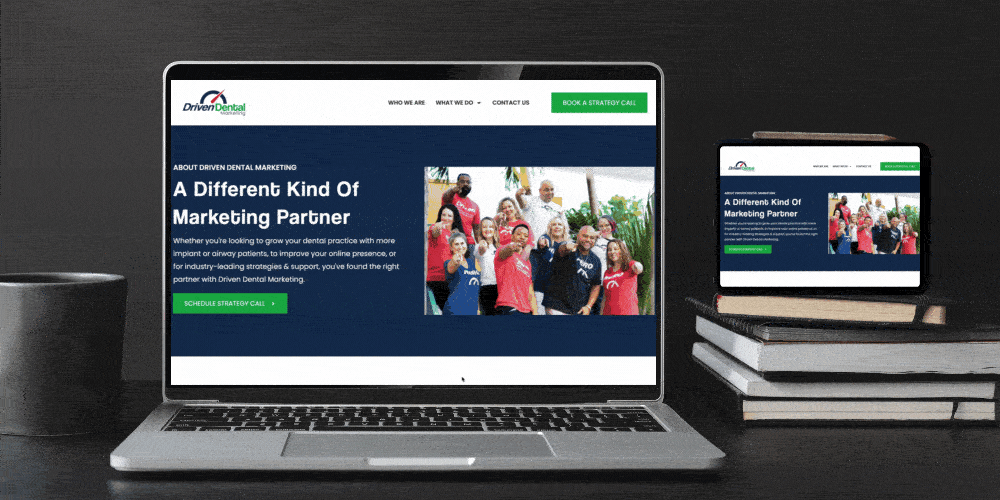 To ensure you attract top talent, your team page needs a few components. We'll share a few of them before providing examples from both within and without the world of dentistry.
1. The team page identifies your ideal employees, thus prequalifying candidates.
Your team page shows your current team off in the best possible light, including what you and their other colleagues love the most about them. By including more information about your current team, potential new team members will quickly see whether they are a fit when they read the page.
This saves you time and money in the hiring process because the average applicant will be closer to the target you have in mind. With fewer interviews and callbacks, you'll be free to keep working in your practice. 
2. It addresses your work environment and culture.
As mentioned before, many team members are moving on from dentistry after experiencing difficult work environments. Your team page is the opportunity to show that your practice is different. Explain how you take care of your staff and don't overwork them. Show appreciation for your current team members on this page, and that you acknowledge their contributions.
It's also an opportunity to show the personalities of your staff and the culture of your team. This can be accomplished a number of ways, including the way you display photos and what you write about each individual team member (or what they write about themselves). Make sure that what you portray on your site matches the true environment of your practice.
3. It has clean and professional design.
To attract the top talent, make sure your team page has a good design. Don't hastily throw it together in a matter of minutes and then call it good.
Schedule a photoshoot for you and your team on the same day, using the same background. Depending on your office's culture you could have a dress code for this photoshoot. This way, all your photos will look professional and uniform on the page.
Consider hiring a professional web designer to create the page. In general, it should have a well-thought-out layout and plenty of white spaces. Also, consider the finer details like brand colors, fonts, and drop shadows behind photo elements.
4. It ranks organically in searches performed by top talent.
Lastly, you can actually use your team page as an "evergreen" source for attracting new talent by considering its search engine optimization (SEO). This essentially uses the same principles as SEO for attracting new patients to your practice, only this time, the target is different. Imagine if a highly-qualified team member searched for "good dental office to work for near me" and your practice showed up at the top of the search results.
Consider the keywords that would appear in such searches, and include these words on your page. Put them in titles, subheaders, and paragraphs. Have your team members include the name of your city in their bio and their opinion about what it's like to work at your practice.
Here are examples from real dentists.
Here are a few dental practices that nail the concept of a team page, in a way that attracts both their ideal customer and also top talent to work for them.
1. Jackson Family Dental
This Missouri dental practice has a well-designed team page that makes new team members want to be a part. Highlights include the fun facts about their doctors and professionally-shot photos taken right inside the practice. Taking time to explain the story and mission also helps potential team members want to join.
2. Bowles Dental
Bowles Dental in Kansas has an attractive About Us page that isn't afraid to employ tongue-in-cheek humor to good effect. Including the amount of time each member has been on the team helps potential team members know that they could have a long tenure there as well. Including a couple of plucky comments and down-to-earth language in the bios shows that team members are allowed to be themselves at Bowles.
3. Grand Street Dental
This Brooklyn, NY practice has one of the best-looking websites around, and that includes their team page. Their descriptions explain who they are and make potential team members excited to work with them. Their bios also expand into their own pages for those who want to know more about the people they'll work with.
Ready to take your team page to the next level?
If you're considering upgrading your dental website, adding a strong team page will make a significant impact on your dental practice's long-term success. Gone are the days where dental websites operate as little more than a fancy brochure. Now, they're one of the primary ways you can grow your dental practice.
If you want to turn your dental website into your top salesperson, consider booking a FREE strategy call with us to go over the best practices.