As dental practices begin offering high-value treatments like dental implants, they quickly run into a major problem. They need to bring in new implant patients to make their implant wing profitable… But they and their team may not have the capacity or skill to find high-quality dental implant leads. In fact, most dental practices don't. It can take a couple of quarters or even years before everyone feels equipped.
This isn't a knock against any dental practice's team. In our time working with dentists, we've found that most practices have an amazing, tight-knit team that understands how to work together.
The issue is that a dentist's team has far too much to do, even before adding implants into the mix. They can't become specialized in handling the needs of a potential implant patient with everything else they juggle in routine dentistry. They don't know how to nurture and prequalify implant leads so they come into your office ready to move forward with financing already taken care of.
But there is a wonderful type of system out there that can. It's called a Virtual Patient Advocate (VPA). A VPA acts as an out-of-office member of the team dedicated to bringing in pre-qualified implant leads. These prospective patients are already primed and ready for treatment… they just need to be connected to the right dentist. And that dentist could be you.
Here are the top three benefits of partnering with a VPA. Take a look at them and determine if it's the right move for your practice:
1. They reduce your chair time.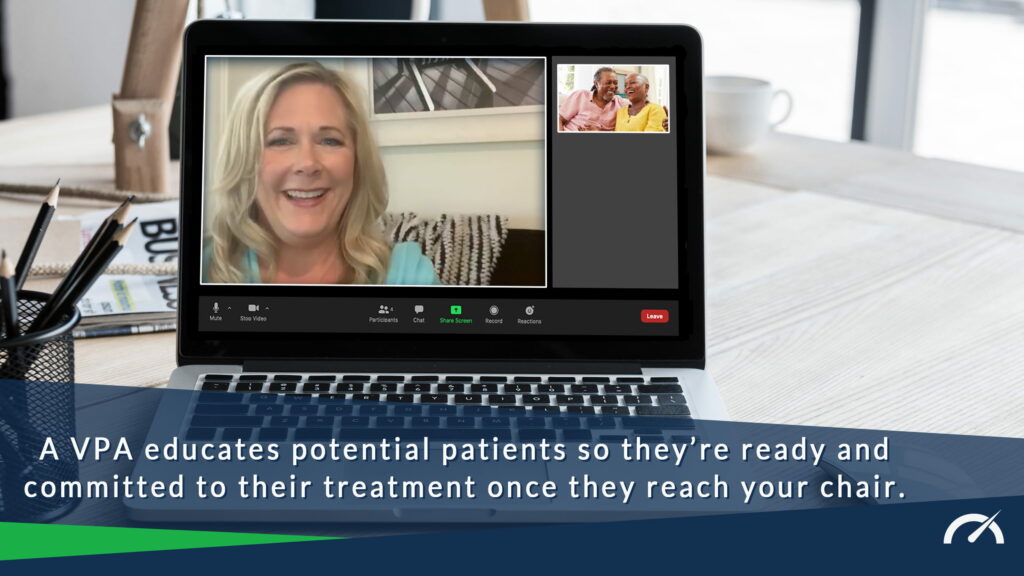 Implant patients have a different journey toward committing to your case, with different roadblocks than routine dentistry. Many dentists are surprised to find just how much of their time is spent consulting with potential patients rather than performing high-value procedures.
Partnering with a VPA will significantly reduce your chair time because the patients a VPA introduces to you are already educated about implants and ready to commit to treatment. Oftentimes it only requires one short consultation to get the ball rolling, instead of several. Because your chair time is freed up, you can spend it on what you do best – performing dental procedures.
2. Each lead comes pre-screened and pre-qualified.
When we began working with dental implant practices, we were shocked. Almost every dentist said the same thing: many prospective implant patients make it through the initial stages of the process… only to back out at the last minute when the issue of finances comes up. So much so, that dentists began referring to it as the "dreaded financial question."
It's frustrating to deliberate with a patient about a treatment that can change their life for the better, only to lose them at the last minute. That's why VPAs pre-screen all implant leads to make sure finances are covered. Some patients may require financing for the procedure, but they come already educated on the topic and ready to commit to it. This virtually eliminates the "dread" part of the equation.
3. Your volume of leads will still increase.
Sometimes dentists assume that partnering with a VPA means their entire process will become outsourced and monopolized… and since the implant leads are higher quality, there will certainly be fewer of them coming through, right? Thankfully, no.
Partnering with a VPA only adds to, doesn't take away from what you already do. And good VPAs are connected with a plethora of prospective patients, ready to move forward with treatment.
Every time we've seen an implant practice make this move, we've actually seen their number of implant leads increase… often by 50% or more. This is because they're hiring a specialist, extremely skilled at finding and delivering high-quality implant leads. For all the practices we've partnered with, the VPA "pays for themselves" within a couple of months.
Consider signing up today (or at least learning more).
If you want to partner with a VPA, or if you at least want to know more, then let's schedule a free strategy call. This is the first step toward working with a Virtual Patient Advocate. Our goal for you is to deliver implant patients, not mere leads. At the very least, you'll walk away with more knowledge about how to attract high-quality implant leads and boost your case acceptance rate.